Every season I get some fresh products and makeup - not because I need to - I am just such a product junkie. Below are my latest beauty obsessions. P.S. is anyone as obsessed with eyeshadow palettes as I am?? It's a problem! The gals at Sephora look at me funny when they see how many points I have...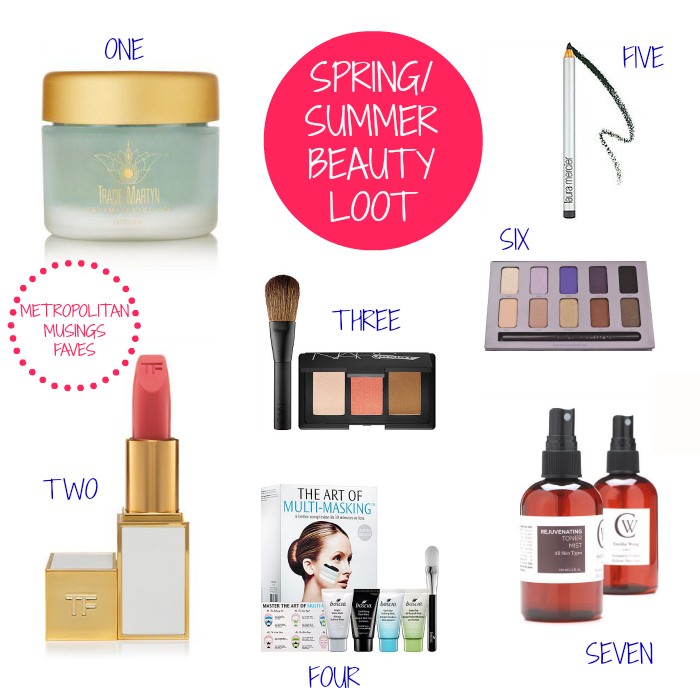 ONE // Tracie Martyn enzyme exfoliant is gentle but gets the job done. Your skin feels like you got a facial after.
TWO // I love coral and fuchsia lips for spring and summer. I don't have Tom Ford's lipstick in "summer fling" just yet but it will be mine! How gorgeous is that color and the casing is pretty enough to show off. I also love "frolic."
THREE // If you know me, you know that I don't own blush. I love my new Nars palette that comes with Orgasm blush, Laguna bronzer and a highlighter. I'm trying to learn how to contour so this is my new best friend. It's also the perfect compact size to throw in your purse.
FOUR // If you're like me, your face is not any one "type" of skin type. I would classify my skin as combination, it's dry on my cheeks and oily on my t-zones and I'm prone to clogged pores on my nose. This Boscia kit is awesome. It comes with 4 different masks designed to mix and match with instructions and a brush to put them on. I can't wait to try this
FIVE // Laura Mercier kohl eye pencil in stormy grey is my favorite eye liner. It is the perfect color and it's really creamy and easy to apply.
SIX // Stila is a hidden gem for eye shadows. Theirs are super pigmented and come in great colors. I had my eye on this palette for a few months and finally bit the bullet. If you have brown eyes, you need this. It has perfect neutrals and purples and browns to make your eyes pop. Obsessed.
SEVEN // I recently got a facial with the wonderful Cecilia Wong of Cecilia Wong Skincare and my skin was glowing. She recommended her toner, that has probiotics, for the oil bumps that have been forming on my forehead because of working out. You can spritz as you go and it kills bacteria, effectively not allowing acne to form. It smells great too and is all natural. You can buy it
here
.